Ayenbee
Technology (be-technology.html)
Products (be-products&applications.html)
Customers (customers.html)
Quality (quality.html)
The information
provided on this page is
believed to be accurate.
However, Ayenbee claims
no responsibility for the
suitability of this information
for a specific application.
©2018. Ayenbee Group. All
Rights Reserved.
Technology
Indigenous Design, Development, Production & Testing.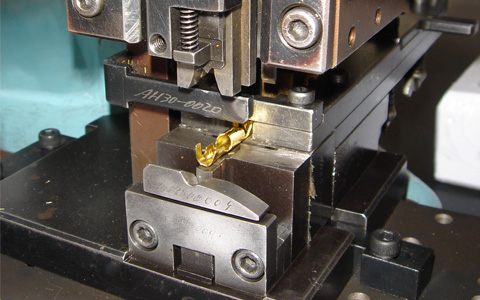 At Bahawalpur Engineering, we determine our own manufacturing and testing process, and design and develop the required tooling. When faced with a technical problem, we have always found within ourselves the capability to solve it.
Complete harness assembly and testing process was concieved and designed by us. This was to achieve economic and profitable production of volumes of harnesses demanded by our customers.
Equipment:
Production equipment in or facilities include but is not limited to:
Automatic Wire Cutting Machines (KODERA)
Wire Middle Stripping Machine (KOGANEI)
Crimping Presses (UNION & KOMAX)
Crimping Applicators (UNION, TYCO & JST)
Ultrasonic Welding Machine
Splice Taping Machines (NITTO)
Quality Testing Equipment:
Crimp Force Analyzer (KOMAX)
Crimp Pull Test Machines (IMADA)
Computerized Crimp Height Micrometers (IMADA)
Crimp Cross Section Testing Microscopes (LEICA & INSIZE)
Magnification Instruments for Visual Inspection.
Ayenbee Equipment:
Conventional Harness Assembly Boards
Electronic Guided Harness Assembly Boards with Circuit Testing
Smart Assembly System with hand movement monitoring & guidance.
Electronic Programmable Circuit Testing.
Circuit Testing Jigs with Automotive Probes
Design & Development
Wire harnesses for Suzuki SB308 and SA310 cars and Mazda, Nissan and Isuzu trucks were redesigned by us, resulting in a cost effective design without compromising quality and safety.
Our designs are approved and accepted by the respective Japanese principals and result in substantial savings to our customers.
---